Search the PBase Photo Database for Photos
Result Page:
1 of 9
Next
krim Galleries Search Results 1 to 1 of 1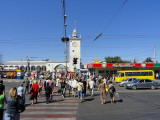 Krim and Odessa
by Michael Emmerich (fotographer)
krim Pictures Search Results 1 to 10 of 85

Puding Lapis

Puding Mousse Strawberry

Last of the Krim

De Krim 't Horntje (28 km)

Chufut kale

De Krim, chr geref kerk voorm 11 nu woonhuis, [004], 3016.jpg

Duindoornpijlstaart Seathorn Hawk moth Hyles hippophaes bienerti

Blue flowers field in Mangoop

De Krim, NH kerk infobord [004], 2008

Common Blackbird
Turdus merula merula
Result Page:
1 of 9
Next
All images are copyrighted.
Please contact the photographer before using an image for any reason.
Find contact info on the photographer's profile page.