Search the PBase Photo Database for Photos
Result Page:
1 of 1
gay porn Galleries Search Results 1 to 2 of 2

Wetlook
by Jesse Roberge

La Union, May 15-16, 2004
by Sidney Catindig
gay porn Pictures Search Results 1 to 1 of 1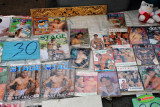 Street stall selling gay porn, Bangkok
Result Page:
1 of 1
All images are copyrighted.
Please contact the photographer before using an image for any reason.
Find contact info on the photographer's profile page.