Search the PBase Photo Database for Photos
Result Page:
Previous
2 of 501
Next
butterflies Galleries Search Results 11 to 20 of 2112

Butterflies at Tad Xai Waterfall
by Sandy Schwinn

Butterflies (Lepidoptera) of Larose Forest
by larose forest photos

Palay2 Butterflies
by csmallari

Exotic "Butterfly Magic", Tucson Botanical Gardens
by Carol Rollins

Central Park Butterflies
by Ellen Michaels

Giant Owl Butterflies
by Gary Hebert

Butterflies of Costa Rica
by Gillian

Great Spangled Fritillary Butterflies
by Gerry Gantt Nature & Scenic Photography

Lepidoptera - Butterflies (Vlinders)
by Albert Noorlander

Butterflies from my garden to other countries
by nicolebouglouan
butterflies Pictures Search Results 11 to 20 of 5000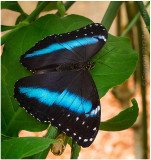 Blue morpho butterfly.
Result Page:
Previous
2 of 501
Next
All images are copyrighted.
Please contact the photographer before using an image for any reason.
Find contact info on the photographer's profile page.