Search the PBase Photo Database for Photos
similar to
Result Page:
1 of 1
mount ritter Galleries Search Results 1 to 1 of 1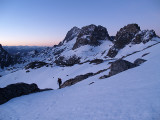 Mount Ritter (May 2014)
by oliverka
mount ritter Pictures Search Results 1 to 8 of 8

Mount Ritter snow slopes

Mount Ritter from mouth of Thousand Island Lake w.jpg

Mount Ritter (Center) & Banner Peak (R) From The East
(IMG 2958 1.jpg)

Mount Ritter

View Towards Mount Ritter

Banner Peak From The Northeast
(IMG 2977 2.jpg)

Long Valley Panorama

Massachusetts International Peking
Result Page:
1 of 1
All images are copyrighted.
Please contact the photographer before using an image for any reason.
Find contact info on the photographer's profile page.